»I walked up to him trying to sell him weed, crazy times. We just became friends after that«, Vonne laughingly describes the first encounter with Dre. The two met when Vonne moved into the same apartment complex when they were 15. But not both of them knew right away that they wanted to make music their profession one day. While Vonne already wanted to become a rapper at 15 and listened to entire discographies of Wu-Tang and Jay-Z, Dre talks about his plans to become a BMX rider, chef and programmer.
The two musicians describe their sound as hybrid and diverse. The rap duo is inspired by different areas and musical styles and tries to bring together different genres. When asked what music they like to listen to, Dre only laughingly replies: »How much time do you have?«
Less can be more
At 21, Vonne Parks and Andre Gainey had their first gig at Sunny FLuff Skateshop in Tampa. The skateshop, which was also an art gallery, belonged to a mutual friend who booked them as the opening act at an art show. »We basically had none of the gear and stuff that we use now. We just ran off of a laptop.«
Buy at HHV
They Hate Change
Finally, New Black Vinyl Edition
from 21.99€
Today, the rap duo is 28 and their music changed over time as well. Their sound became more straightforward and simple and the two reduced it to the essentials. Not least in terms of equipment. Dre talks about how a lot of equipment can also be a limitation. »Sometimes it's like ›let's take all of this extra stuff out and just use this‹. Just like ›Hey, we actually don't need all of this to make a great record‹«.
The belief in success
As their popularity grew, They Hate Change realised that music was more than just a fun sideline. »When you start to see physical copies of stuff it's even more real«, says Dre. However, the two never doubted that they would one day be able to make music full-time. Vonne talks about how they juggled music and their jobs. »I think we always thought that this was going to work. It was just a matter of time. We knew that the thiadnrng we're doing is going to take a longer stretch of time than if we were making a major label kind of music. We were working regular jobs and also making music until the music was working on itself.«
»Irgendwie haben wir immer gewusst, dass es funktionieren wird. Es war nur eine Frage der Zeit. Wir wussten, dass es länger braucht, als wenn wir Musik im Stil eines großen Labels machen würden.« (Vonne (They Hate Change))
For their sound, They Hate Change also draws inspiration from the music of great German artists like Kraftwerk and Harmonia. Especially the music of Harmonia was a big inspiration for their forthcoming album in May. »We're really into prog rock. That was one of the main inspirations on the album.« In May 2019, Vonne met DJ Gay Z, also based in Florida, at a queer party. In 2020, they met the artist again at a show and became friends. When the two recorded their track »From The Floor«, they knew Gay-Z would complement their song with his style.
The House that Jag built
The fact that their album will now be released on the US label Jagjaguwar is indescribable for them. »I mean, it's huge. Even when talking with them during the interview process, they were like 'hey, so we're Jag' and we're like ›Yeah, we know‹. We were showing them records of artists who are on their label signed. It was hilarious.«, Dre says with a laugh about their first meeting. The joint collaboration came about when the label heard an EP by the duo and at first thought that they were already signed.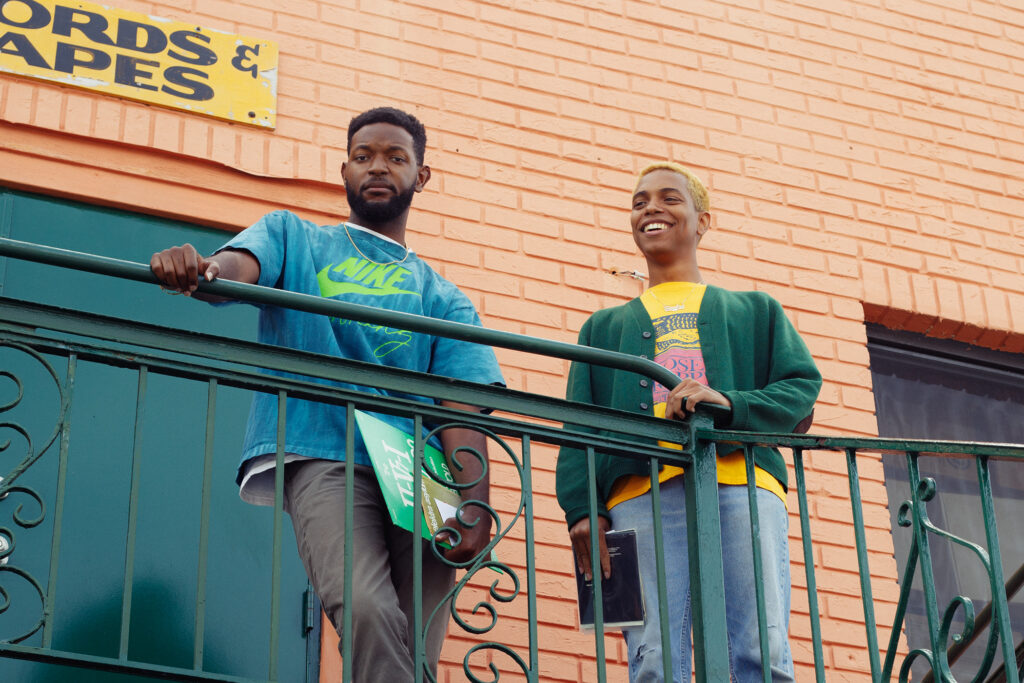 When it turned out that wasn't the case, they contacted Dre and Vonne and offered a collaboration. »They have been nice people and are very willing to do the work that is required for our album release. We're not a viral sensation, so there's obviously some extra work that has to be put in to make sure that we're reaching the people.« When asked how the two rappers would describe their new album, Dre answers briefly but firmly with the words: »If all the world's a stage, this is what would be playing.«
Finally, the Album
»Finally, New« is the album Vonne and Dre always wanted to make and represents a final form of their previously recorded pieces, allowing them to show people that they know what they are doing. »There are going to be people«, Dre explains »who might be listening to us for the first time. It can be the first time it could be the last time. It has to count«.