Sometimes she sips her white wine. But at the end of the show, the glass is still half full. Restraint is the name of the game on this evening in Wedding, where Ana Roxanne performs while hardly making a personal appearance. The hall at Silent Green is completely dark. Three dimmed spotlights cast little more than a hazy light on the American. 
Buy at HHV
Roxanne accompanies herself on guitar and synth with no band to support her. Sometimes a shy »Thank you« slips out between the songs. Only once does she say a few words about how pleased she was to be able to play to a sold-out house two years after the release of her LP »Because of a Flower«. The trained musician's album follows »~~~«, the début she released herself: Ambient and dream-pop with spiritual influences from Christian choir music which she grew up with, plus sounds from Hindustan, which she encountered on a trip to India.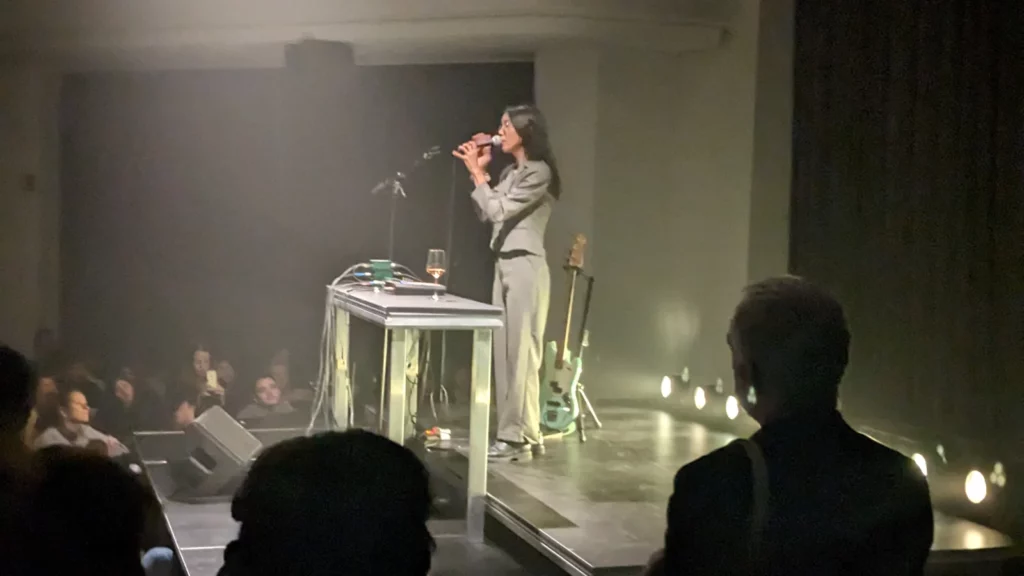 These songs don't need any pompous staging. Fittingly, Ana Roxanne herself almost disappears behind the haze of dull light, flat synths and her drawn-out breathy vocals. This is how her ambient pop unfolds by itself, settles over the room like a warm blanket, pushes the outside world behind a veil of fog and induces introspection. The mixing of the music skilfully reinforces this effect of presence and absence: The sound takes over the auditorium, but at the same time retains its subtlety and delicacy, so that you perceive every sound – every time someone clears their throat or someone shifts. If that happens, that is. The audience is after all noticeably spellbound, passing most of the time in silence, absorbed in Roxanne's meditative world of sound. 
Only after about a third of the concert is there a brief instance of movement, a brief interlude of awakening. As with dominoes, the front rows sit down on the ground first and are quickly followed by almost all other guests. It's as if the New Yorker by choice can trigger hypnotic reactions with her meditative songs. After a crisp 45 minutes, Roxanne quickly scurries off the stage. Neither does she come back for an encore. A beautiful veil remains for a long time and even outside where everything beckons for you to wake up again.