Sibel Koçer is sitting in her bedroom studio. Behind the Berlin producer, colorful cables of modular synthesizers straggle over her table. As JakoJako, the half-Vietnamese has been producing electronic music for over five years—with flashing machines that some would probably rather locate in a space station than next to an Ikea bed. There is a reason why, in SchneidersLaden, the specialist store for Eurorack enthusiasts, Sibel is considered a specialist. »When I turn the knobs, see the lights or patch the cables, it calms me down,« says the former nurse.
Buy at HHV
With Berlin techno producer Rødhåd, JakoJako released »In Vere« in 2022—a record that hurtles forward on big kicks, but with playful pads that shiver underneath like a glittering fever dream. Sibels debut album on Bigamo, Frank Wiedemann's label, on the other hand, is an ambient excursion into the circuitry of the producer's modular system. »The hypnotic doesn't come in a loop over four bars,« Sibel says. »It always comes in phrases. You may think it's the same thing. But the textures change over larger periods. It's a bit like mandala painting.«
Who's New Order again?
»Verve«, JakoJakos hypnotic techno debut on Mute, started with its legendary label founder Daniel Miller. Both knew each other from Schneider's store. »But he didn't know I was making music on professional terms. Conversely, I had no idea what he was doing exactly.« After Sibel had spent an afternoon fiddling around with him on an update for a module, they were both »down«, though. A little later, the phone rang. If she could imagine herself producing a remix for New Oder, Miller asked her. »Yes, of course!,« Sibel replied. »After that, I was like, who's New Order again?«
»Das Hypnotische entsteht nicht in einem Loop über vier Takte. Es kommt immer in Phrasen.« (Sibel Koçer)
After a few weeks, the phone rings again. On the other end of the line: the manager of Depeche Mode frontman Martin Gore. He had heard the remix for Mute. If she could imagine herself … »Of course«,Sibel said again. Because both versions were well received Mute asked her for a solo release. »But they were talking about NovaMute, the sublabel for club sounds. I knew Plastikman and Speedy J's stuff there—so I started brainstorming ideas for a techno record.« As for why Miller finally decided to release JakoJako's EP on Mute, »I don't know« laughs Sibel. »I was just like, Whoaa!«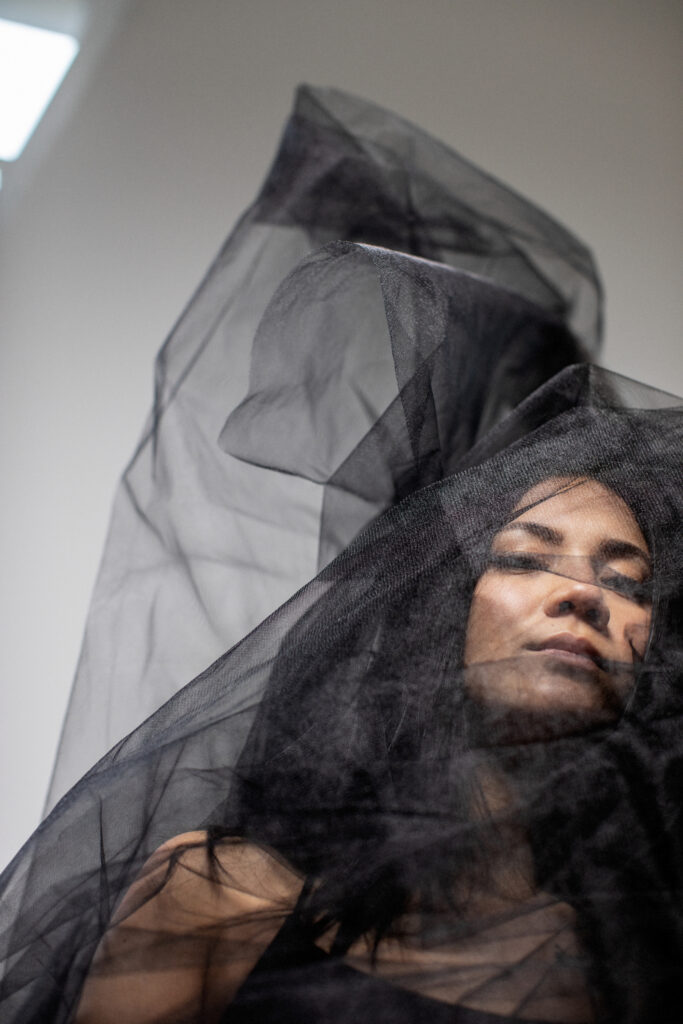 A small car as an instrument
Sibel recently quit SchneidersLaden. Even though, over the past few years, she has made a name for herself as a specialist in the store at Kottbusser Tor, and Schneider was also her link to her first releases on labels like Leisure System. However, Sibel says, the focus has shifted. »I reduced my working hours more and more because I'm on the road more often as JakoJako. In the end, I was only in the store one day a week, but even that I sometimes didn't get it together. Now and then I forgot, other times I was late or hungover«, says Sibel.
Her life has changed. So has her music. The symbol of JakoJako's »Metamorphosis« can best be traced on her favorite instrument. On Modulargrid, the online database for modular synthesizers, JakoJako shows her current modular setup. 25 modules hang in her rack, almost 5,000 euros worth of synthesizer gear. A lot of money, of course, but used in a focused way, according to Sibel. »After all, I don't buy them because I want to collect, but play. That's why the organism is constantly adapting.«
Techno, as JakoJako has recently released on Mute, fits well into this idea of constant change. As a DJ, she likes to play hard, dark bangers that can also be »broken«. The Berghain resident mixes trance with it, though, so that it doesn't »remain quite so serious«. Therefore, her sets could turn into a romantic direction, but can develop into something »emo«, too. »The main thing is«, says Sibel, grinning as if she's just come to the four o'clock tea of Klubnacht, »that you can bounce again afterwards.«