»I'm doing this because I have an idea for a record. And I feel my music. I can only hope that people like it,« Los Angeles-based musician Sam Gendel told me two years ago, explaining why people never know exactly what's in store next when it comes to him. Yes, Gendel is certainly not someone who pours over business plans or makes elevator pitches to A&R people from labels. 
Buy at HHV
The only thing the somewhat quirky saxophonist, guitarist and horn player – I think they simply say multi-instrumentalist nowadays – actually listens to is »his feeling«. This sensitivity also forms the basis for his success, which has emerged over the last five years and made him a dancing beacon of a new, weird jazz. 
Auto-Tune for sax 
After years spent as a session musician, including for the band Inc., Sam Gendel made the decision to stop compromising in around 2017. Inspired by various processing techniques and harmonisation effects that have now become commonplace in American cloud rap and trap, he »short-circuited« his saxophone and has been making it streak, glide and somersault ever since. 
What Auto-Tune became for rappers' voices around the world could now be used for other instruments. The outcome: the jazz from Gendel's instruments suddenly became mercurial and fluid. In reference to the blue notes that gave the blues its name, you could now simply dip these liquid notes in purple: Purple Notes. 
Until the notes turn purple again 
But this distinctive sound, which can meanwhile be found among European peers like Otis Sandsjö, is not the musician's unique selling point. His main driving force remains precisely that feeling that repeatedly makes him take – to put it mildly – unpopular decisions. Following a successful underground album on the Matthewdavid-led Leaving label (»Pass If Music«, 2018), it took Sam Gendel two years to achieve his breakthrough with »Satin Doll« on the much larger Nonesuch label. The press were unanimous in their enthusiasm: »Jazz hasn't sounded so fresh for a long time«. 
»I'm doing this because I have an idea for a record. And I feel my music. I can only hope people like it.« (Sam Gendel)
Thirteen outstanding versions full of the insane joy of playing and technical progressiveness (keyword: purple notes) left both conservative minds and jazz novices wide-eyed. 
So what could be more obvious than making a repeat of this recipe for success? An thought not worth thinking in the world of Sam Gendel. Instead, he made the album »DRM« only a few months later, which revolved around an old drum machine. »I got by with no more than five buttons and a switch«, he explained to me at the time. Reduction instead of megalomania.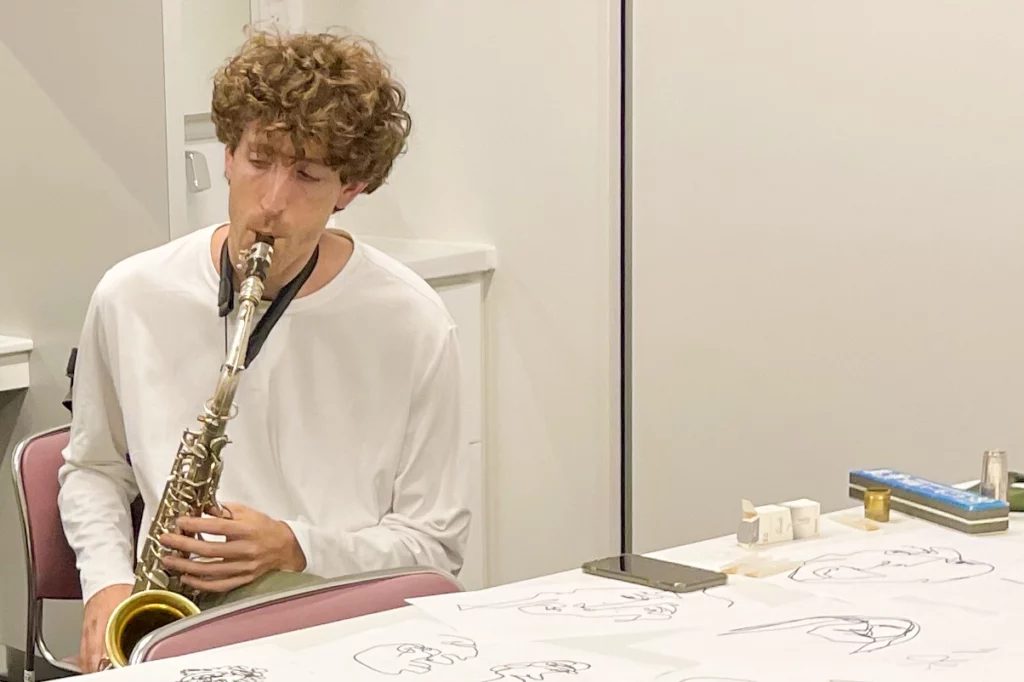 You are less alone in a duo 
Sam Gendel ticks pleasantly differently, proving time and again that he is driven by his ingenuity – thus not letting the flood of new material subside. Au contraire: he released six more albums in 2021 alone. Including the duo's long-awaited second album with Sam Wilkes: Their 2018 début »Music For Saxophone And Bass Guitar« is hard to beat when it comes to smooth elegance. Echoes of the sound of the West Coast beat scene surrounding artists like Mndsgn as well as the productions by London prankster Dean Blunt and Chicago producer Makaya McCraven make this an avant-garde pop record which is second to none. 
Yet another duo capture the quintessence of what makes Sam Gendel a special musician even better: »Live A Little«, another 2021 release, recorded with Antonia Cytrynowicz. »With whom?«, ask nerds and laypeople alike. Hidden behind the name is the then eleven-year-old sister of his partner Marcella Cytrynowicz, a filmmaker from Los Angeles. The untrained and unpractised voice of the girl, which despite this is still capable of singing of love and intimacy, of yearning and heartbreak, goes hand in hand with the range of instruments that Sam Gendel plays. One of the most idiosyncratic records of recent years – and a real diamond. 
Related reviews
Several new records have been announced by him for this spring as well: »SUPERSTORE« is finally being released on vinyl, as is »blueblue« (both: Leaving Records). Another album, »Cookup«, has also been announced on Nonesuch, this time featuring only cover versions of well-known R&B and rap songs. We can certainly be excited, because one thing is for sure: Sam Gendel likes it, his feeling tells him that.