To fully understand failure, you need to identify its beginnings. For Total, these lie in the early '80s. The New German Wave was at its peak, electronic music was on the rise, and there were drum machines, affordable synths and Simmons drums. The scenes are set in Berlin and Stuttgart. 
In Berlin, there was Jim Rakete: highly sought-after photographer and pioneer of the New German Wave. He managed bands like Spliff and Nena. »99 Luftballons« had recently soared to the top of the German as well as international music charts. 
And in Stuttgart? Total was there somewhere, a unknown young band founded by guitarist Thomas »Tommy« Maisenbacher. A band with ambition. Still with a vocalist at first, they recorded their first demo with producer and musician Günther Mannschreck in his Stuttgart studio in 1983. Mannschreck had already released multiple productions at the time, including some through his independent label Schreckschuss. He also had major label experience with his veritable pop-rap New German Wave hit »Snap Jack Fieber« and maintained contacts with major music publishers. 
However, the first demo recordings by Total only met with a modest response, which led to the vocalist and bassist leaving the band. However, they quickly found an outstanding replacement in the form of the young singer Andrea Ströbel. And the bass just came from the keyboards now, which was more in keeping with the times anyway. They got together again in the studio and worked on »Jede Nacht derselbe Traum« for a few weeks. 
Rakete, lorry, no kickstart, but a cool time 
Total's new demo landed on Jim Rakete's desk in Berlin, whose jaw probably dropped when he heard it. In an original letter, he announces that he »immediately forwarded the cassette to the boss of CBS«. He raves about Andrea's voice (»Man, man«) and goes on to write that he would also take care of the record cover when he returns from touring with the »Nenas«.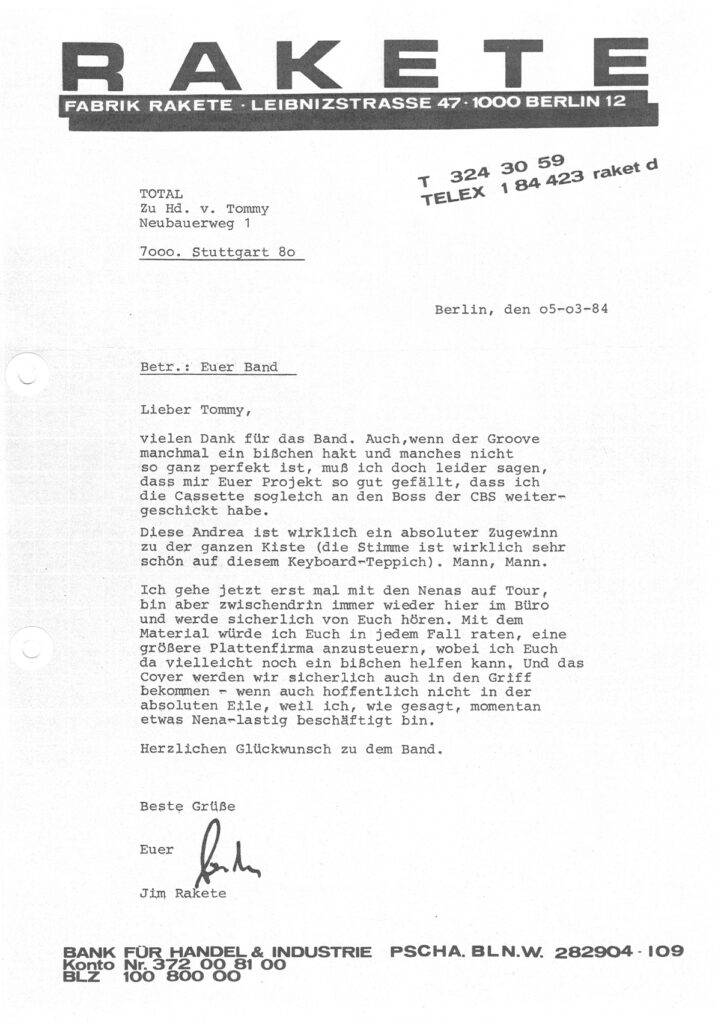 The road seemed to be paved for Total. The only thing that was missing was a contract with a record company, and then things could have really got off the ground. Just imagine: It could have been normal to mention Total in the same breath as Peter Schilling, Joachim Witt or Trio these days. Maybe Total – with Andrea on vocals – was to be the next big thing after Nena. 
Soon a meeting did indeed take place with CBS, Jim Rakete was there, and Nena too, people recall. But, the label wanted an album deal right away. And the only thing Total had was this one song, for the time being. The contract didn't materialise. Thomas »Tommy« Maisenbach remarks today: »We were young and inexperienced. If we had shown more self-confidence at the meeting, we might even have gotten a contract for the single«. 
However, we were still optimistic that it wouldn't take too long before a different label took the bait. For Total, it was off to Berlin to hit the ground running. Joe Bauer, the band's keyboard player, recalls: »I got us a borrowed lorry, we loaded a few bits of furniture into it and off we drove to Berlin. We'd sorted out a flat there«. Band members Tommy, Joe and drummer Bernie Weimer put all their eggs in one basket with Berlin, in response to the call from Jim Rakete's »Fabrik«. 
»I sold cars with Gary Karges in Berlin. I was a regular at Carlo Karges's pub in Schöneberg. It was a cool time.« (Thomas Maisenbach) (Thomas Maisenbach)
But the band more or less fell apart because of the pressure it was under. On top of it all, the money ran out quickly. Andrea wanted to up sticks back to her other band projects in Stuttgart, and Joe had »had enough«, because by now the writing was on the wall: the Total rocket wasn't going to light up the skies. Tommy was the only one who decided to stay for a few more years, mainly because he had a crush on Nena: »I sold cars with Gary Karges (Nena guitarist Carlo Karges's brother) in Berlin. I was a regular at Carlo Karges's pub in Schöneberg. It was a cool time.« 
But back to »Jede Nacht derselbe Traum«: If they hadn't decided to send a real vinyl disc to the major labels instead of a cassette as was normal at the time, Total would be, well, totally forgotten today. Even the green 7″ record, which was pressed in a limited edition release and dozens of which unfortunately ended up in a skip at some point, is virtually impossible to find in the original. The song remained unknown for decades, even among New German Wave fans. 

The record finally turned up five years ago as a listing on Discogs, along with a video of the song posted by an New German Wave channel on YouTube. The link landed with the label The Outer Edge via canny Berlin collectors' circles where at some point label owner DJ Scientist called producer Günther Mannschreck and persuaded him to re-release it.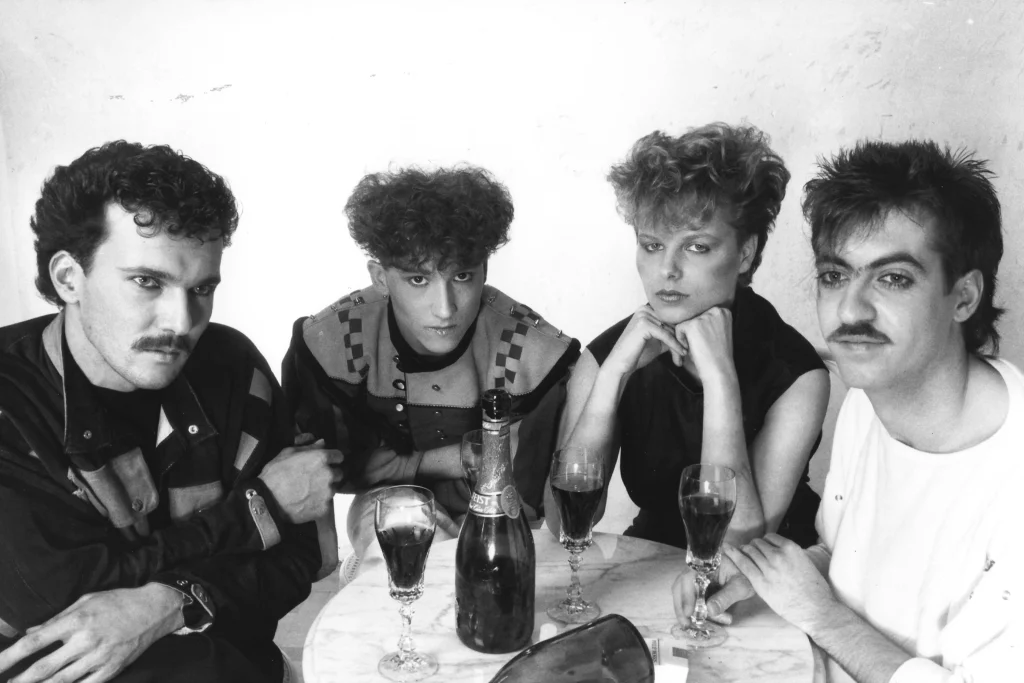 DJ Friction was the one who remastered the track, along with three other partially unreleased mixes, for its current re-release as a 12″. On the cover Andrea Ströbel, on the back the four band members in the bath. Friction even noted in passing that with his track »Snap Jack Fieber«, producer Günther Mannschreck was Stuttgart's first rapper – and even his tape-editing skills and effects on the dub mix are still impressive today. And then it turned out by accident that Andrea Ströbel – who has continued as a professional singer since the 80s – is the stepsister of Philippe »Don Philippe« Kayser, who indirectly is also a friend of DJ Friction. And so the circle is closed. Does anyone still want to speak of failure?