»Hey, you can just stay at my side for a bit during the day, 'cause I still have a few things to do«. Wu-Lu doesn't give anything away. Especially not time. As he pokes his head into the zoom call, he's still chilling on the couch, his pit bull Sunny jumping on his lap. Suddenly his mobile phone chimes. Battery dead. »See you in five minutes«. After fifteen, Wu-Lu grins into the camera again. This time he's sitting in his car.
Born and raised in south London, the man with the gingham afro and gap in his teeth still lives in Brixton. »It's an expensive as fuck area, unless you're earning seven or eight grand a month,« he says as he jams his phone behind the gearstick. »I'm lucky enough to still live here because my family got into the property game early on and snagged this little house.«
Buy at HHV
Wu-Lu
Loggerhead Black Vinyl Edition
from 26.99€
Wu-Lu, whose real name is Miles Romans-Hopcraft, doesn't just live in one of the most expensive cities in the world. He's releasing »Loggerhead«, his debut album on Warp soon. Miles smiles because he knows that he has arrived – alongside producers like Flying Lotus, Nightmares on Wax and LoneLady, who have all released records on the British electronic label in recent months.
Pokémon, kickflips and jazz
The 31-year-old did not end up there by chance. Wu-Lu began to take an interest in music before he lost his baby teeth. His mum, formerly a dancer, supports him in his creativity and in admitting the spiritual side as well as the need to work in a disciplined way. Miles' dad, a jazz band musician himself, soon takes him to concerts. Together with his brother, he hangs out backstage, rides on the tour bus, lives in a world that takes place on stage.
»As a kid, that's why I felt like everyone was making music, that everyone was getting the same upbringing as me,« Wu-Lu observes. »I used to ask people all the time what instrument they played or what gigs they went to. Then I realised that this reality doesn't apply to most people at all.« So he's sure he only became a musician because of his parents. »Because I didn't really practice much, I mostly hung out at the skate park.«
»Whether people are happy, angry, sad or stressed out. I want them to listen to my music and feel something, to get a different perspective on the world.« (Wu-Lu)
 In addition to his love of kickflips and rails, he spends his afternoons – like every early pubescent in the late nineties – with Pokémon and Dragon Ball Z. He soon wants to become a musician. Soon Miles, who now has three tattoos, even wants to get a tattoo of the anime character King Kai. »It's pure nostalgia. I love that because those things made me feel good as a kid.«
Keeping the energy up
Miles attributes the fact that he now builds beats that sound as if Death Grips had met Kendrick Lamar for brunch in a mosh pit in the nineties to his youthful addiction to television. »I got hold of the documentary ›Scratch‹ at some point. It's about hip-hop culture, people like DJ Shadow showing how they DJ and stuff. I watched it before I went to school and after I got home. Cheese and pickle toastie, chips and … ›Scratch‹ –  that was my world for a while!« Since Miles has no idea how Cut Chemist and Mixmaster Mike make this »killer sound«, he pops to the nearest record shop in Camberwell, asks the owner for »breaks« and goes home with two Greatest Hits albums by James Brown.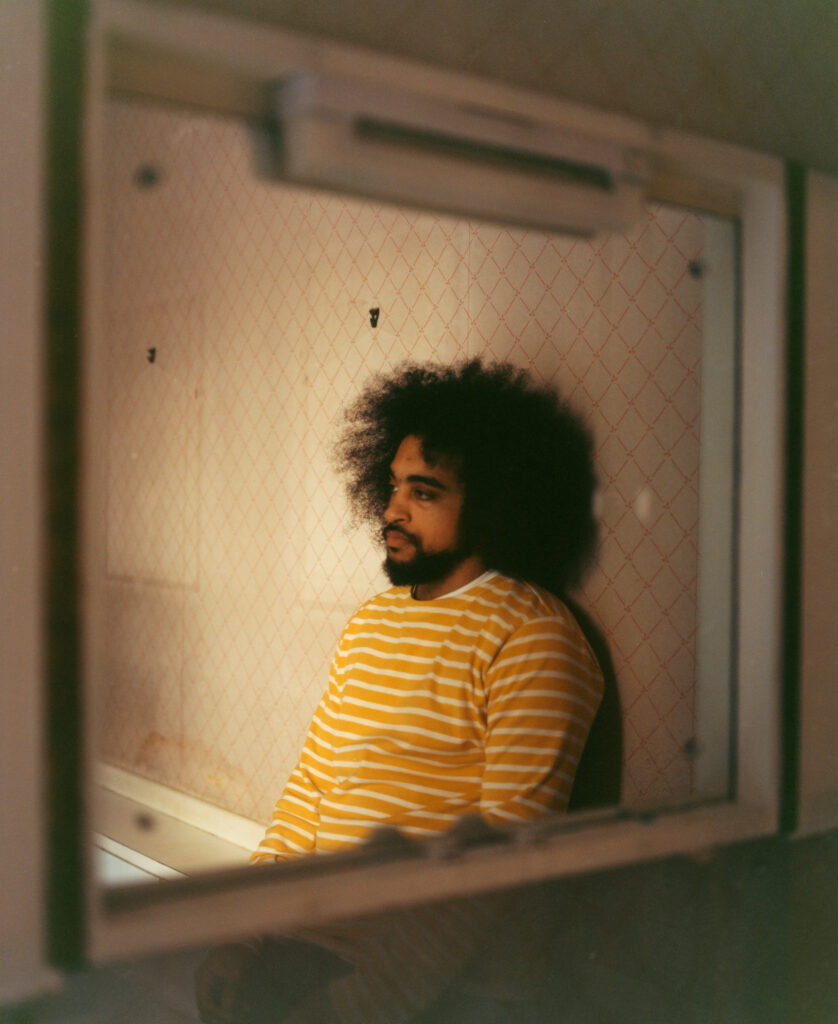 Miles doesn't just scratch around on instrumentals though, he also hunkers down behind his dad's PC and starts playing around with an early version of the music software Reason. »It was like a cartoon to me, but I didn't make a connection between the beats on the turntable and the whole thing – until I heard about sampling.« For Wu-Lu, he says, that was the »spark«. Since then, he has been collecting old jungle jams, sampling rare soul records or pushing the energy level of his songs by using the influence of punk records. After all, that's what it's all about: energy! »Whether people are happy, angry, sad or stressed out. I want them to listen to my music and feel something, to get a different perspective on the world.«
Wu-Lu stops in front of a skate park and turns the mobile phone camera. »Look, this is exactly the vibe I'm going for.« Then the zoom call breaks off. The man with the afro doesn't come back. Instead, he's done a few things. And charged up his mobile phone.