Through no other than Bill Murray of course. The darling of all westerners.
It is no surprise that the profile of an entire country has been extended, if not completely changed, through him.
Only the very hip were familiar with Mulatu Astatke before Bill Murray's epic journey in the 2005 Jarmusch film »Broken Flowers«, in which Murray trawls through his exes. Murray's character in the film has just set off and is rolling down some US highway in a Ford Taurus – sunglasses on, coffee-to-go in his hand – when he puts in the CD his neighbour burned for him for the trip. Winston, as he is called, has Ethiopian roots. Jarmusch attributed these origins to him in his biography for the sole purpose of having a compelling reason for using Mulatu Astatke's music as a soundtrack.
Duke Ellington is flabbergasted
Spaced-out Murray resplendent in sunglasses slides the blank into the CD player in the rental car and »Yekermo Sew« starts playing, instantly adding one or even several cultural experiences to the lives of millions of people in the West: This trance-like sound with its droning horns; the Afro-Cuban rhythm; the beguiling feeling of strangeness with the simultaneous sense of having heard it all before – Ethio Jazz had found its way into their lives.
A whole three decades after Astatke first formulated it on a LP. 1972 saw the release of »Mulatu of Ethiopia«. This milestone has just turned 50.
Buy at HHV
According to a frequently recounted anecdote, the great Duke Ellington is said to have been absolutely astounded when Astatke played him one of his compositions, back in the sixties: »I never expected this from an African«. And he wasn't alone either. No one in the western hemisphere had expected this from an »African«.  On the one hand, quite simply because it could not have actually been foreseen: What Astatke had composed there was genuinely new. You can't even imagine it today, but that was his INVENTION, something unprecedented. And on the other hand, because the prevailing image of Ethiopia was and still is devoid of music in the West. The news is full of other things.
So how does an Ethiopian invent a genre of their own?
Initially, Mulatu Astatke grew up in excellent circumstances.
In Ethiopia.
Several factors can be found that are unique to the country in the Horn of Africa and that favour the rise of Astatke and consequently the birth of Ethio Jazz. We could go into the history and sociology of it, but I'm sure no one wants to do that at this point.
Therefore the condensed version.
Ethiopia remained independent during the Second World War, except for a brief and agonising occupation by Italy under Mussolini.
This far-reaching absence of external domination made it possible for Ethiopia to develop a positive relationship with the West, which led to the proactive adoption of Western educational ideas and permeated all areas of daily life.
A social climate that favoured personal development already prevailed in Ethiopia at the beginning of the 20th century.
For various historical reasons, which would really be going too far now and would amount to complete name-dropping, Ethiopia saw the intermingling of traditional music with large, imported, wind formations throughout the 20th century.
Diese weitestgehende Abstinenz von externer Dominiertheit ermöglichte ein positives Verhältnis Äthiopiens zum Westen, das zur pro-aktiven Übernahme westlicher Bildungsideen führte und alle Bereiche des täglichen Lebens durchdrang.
In Äthiopien herrschte bereits Anfang des 20. Jahrhunderts ein gesellschaftliches Klima, das individuelle Entfaltung befürwortete.
Aus unterschiedlichen historischen Gründen, die jetzt wirklich zu weitgehen und absolutes Name-dropping wären, kam es in Äthiopien über das 20. Jahrhundert hinweg zur Durchmischung traditioneller Musik mit großen, importierten, Bläserformationen.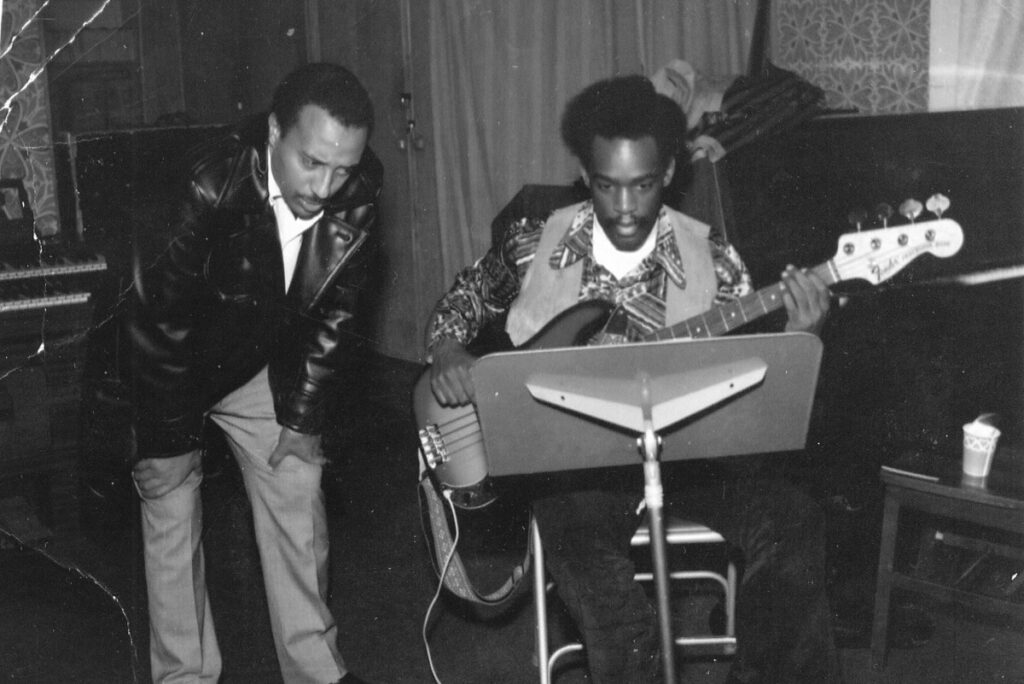 These are the broad historical events that paved the way for Ethio Jazz. Now a quick look at the biographical ones.
Astatke not only came from a home with an expressive culture and a positive relationship with other cultures, but he also came from a family with money. This made it possible for the young pioneer to move to North Wales at the age of 16 to study aerospace engineering. A surprising choice of subject that nonetheless fits in well with what was to follow a few years later: The indeed highly complex – cue: rocket science – construction of Ethio Jazz.
The development is accelerated by the fact that the Welsh college he attended allowed its students the freedom to try out other subjects, including music and art.
Fast forward through the biographical landmarks of the ensuing years: Astatke gets stuck on music, goes on to study at Trinity College in London, establishes himself in the London jazz scene and then develops the ambition to compose for himself, to write music and, above all, to represent Ethiopian music internationally. He becomes the first African student to attend Berklee College of Music in Boston, Massachusetts, then the only jazz university in the world.
Music-theoretical music theory
And that's where it all takes off. Astatke achieves his plan to create a new genre by finding methods to fuse Ethiopian music and jazz. And this is indeed music-theoretical music theory. In short: he develops a way of pairing the five-tone music of his homeland with the twelve-tone technique on which most Western music is based.
The result is a sound that seems to flow against itself and into itself at the same time, creating a harmony that is… harmonious and reeling at the same time. Miles Davis on a high plateau, above a thicket, under the stars, in contact with higher beings.
Finally arriving in New York, Astatke puts together his Ethiopian Quartet, which consists mainly of Puerto Ricans. In the 60s, they record two albums, »Afro-Latin Soul 1 & 2«.
In 1969 Astatke returns to Ethiopia, where he records and releases »Mulatu of Ethiopia« in 1972. Jazz is still very present here in its 'pure form', just like the influences of Latin American music. But especially in the wind passages, the new genre, Ethio Jazz, has already started to forge its way towards the front; evocative, wry, entrancing.
Finishing touches in the bush
Astatke comes up with more of the same tricks shortly afterwards. In the bush.
He undertakes a field trip that will add the finishing touches to his sound. In the south of Ethiopia, he spends some time with the Darasha tribe and experiments with their styles. The musicians in the tribe play octatonic scales. 24 people blowing different lengths of tone into bamboo pipes. 
In 1974 »Yekatit Ethio-Jazz« is released. It also features the Bill Murray song (originally released as a single a few years earlier), which baby boomers from Arkansas probably even know.
No question that it's one of the trademark pieces in Astatke's discography. Astatke's idea of bringing together different cultures through musical composition can be grasped here in perfection.
The piece is based on a Horace Silver song, »Song for My Father«. Astatke models the rhythm of the original and expands its theme to the interval of an octave, alienating it from its Western origins and making it almost unrecognisable, but only almost. This is how this stunning interplay of the familiar and unfamiliar is created. Music that captures the soul and releases the spirit. And well looked after by Jarmusch.
Unheard sounds
Also remarkable is the use of instruments. Astatke personally introduced the electric Fender Rhodes to Ethiopia and made more than just a few friends with it in the mid-sixties. But that's another story. The use of a fuzz box was of course unheard of until then; it distorts the sound decisively and creates that trippyness that makes »Yekermo Sew« so irresistible. Jarmusch doesn't call the song trippy, but finds another name that excludes the hallucinogenic level: travelling music. In doing so, he hits the mark completely. Because Astatke's Ethio Jazz is not only »travelling music« in the sense of an atmospheric backdrop, but in its very essence.
Ethio Jazz shares sonic characteristics with hard bop and modal jazz on the one hand and with traditional Ethiopian music on the other, thus already succeeding at the special translation of one of the integral components of jazz music in general: The interpenetration of different origins and cultures.
»Yekermo Sew« condenses decades of pan-continental musical history into one composition and openly bows to its idols and ancestors, allowing Astatke to express a sense of belonging, an attachment to musical history and its players, over and over again. At home in history. A nostalgic moment that lends the song its melancholic power. And yet, at the same time, there is the future. With all its potential. Expressed through the use of new technologies and through the title of the play: »Yekermo sew y∂blan« meaning as much as »May He (God) make us all people of the next year«.
It's not meant as a threat here.
Mulatu Astatke's transport music transforms what is to come into an open space, which we glide towards with the serenity and strength that the past journey may have given us. It has been a blessing for 50 years. And in 2022? More than ever.