Piero Umiliani was one of the greatest Italian composers that almost no one has ever heard of and yet everyone has listened to. »Mah Nà Mah Nà« combines three notes and a childhood experience. The »Maestro«, as Umiliani later liked to be called, composed the song in the late sixties for an Italian film about naked chicks in Sweden. It was pure coincidence that the song ended up on Sesame Street and from there in the heads of millions of American kids. And despite everything, it was only a question of time before he came back on the stage again. The Italian had been writing for film and television, scoring documentaries, and developing theatre music since the end of the Second World War. During the 60s and 80s alone, he released more records than you can squeeze on to a Kallax shelf today. And there of all places once again you find the name of Umiliani 20 years after his death. Reissues are awash on the soundtracks from the »Cocktail Generation« on YouTube timelines and Spotify playlists. Happy music is cool again. And »exotica« is cultural appropriation. Practically, but simply a cool vibe.
The Gangsters ask for Jazz
»In Italy, this kind of music was illegal. If you were caught listening to it, you ended up in jail«, Piero Umiliani said of jazz during fascism. It was the music he listened to secretly on the radio as a teenager while the Allies were already bombing the tip of the boot. Umiliani grew up with his family in Florence and loved the sound of Duke Ellington. When the US army took the city, he was seventeen and spent his nights strumming in bars – for soldiers who left him tips and new records from America. Umiliani realised that there was money to be made in music. In his diary he wrote, »I would like to compose music because I have the feeling that it could bring me pleasure in the future«.
Despite this he studied law after the end of the war. Not to become a lawyer afterwards, but for the sake of his parents. Umiliani continued to spend his nights in the clubs and bars of Florence and began to mix Neapolitan songs with American bebop. The occupying GIs like it as much as the locals. And word gets around. RAI, Italy's state radio station, plays the first recordings of Umiliani's songs. RCA Records learns about the twentysomething. When his debut »Dixieland in Naples« was released in 1955, Italian grandezza sailed across the Atlantic to stop at the Mississippi. The first US-Italian crossover seems anything but »Italian«, but only because it doesn't sound like the chef burned himself tasting the spaghetti Bolognese after downing three bottles of Chianti.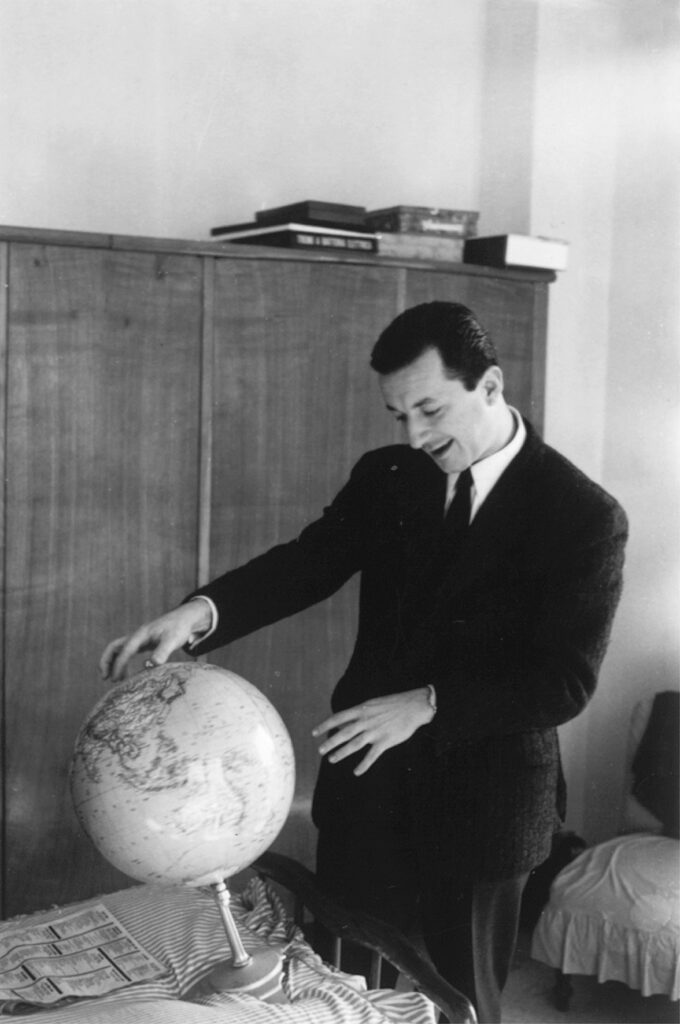 Piero Umiliani realises he captures the Zeitgeist. And wants to go into show business with it. In 1958, Mario Monicelli, a director, who had already made a few films by this time and was considered a new star in Italian cinema, came forward. Umiliani was asked to write the music for his film »I soliti ignoti«. He goes to Rome, sees the film, and knows: the gangsters want jazz! The composer begins to work with the trumpeter Chet Baker. A genius who injects his himself with several grains of smack a day, but who injects exactly the kind of drama into the gangster comedy to help turn it into an Oscar contender with his tremolo lips – and brings American jazz to the Italian cinema screen for the first time.
Constant reinvention
Today the film is seen as a departure from the angst of post-war neorealism to the riot comedies that gained popularity in the sixties. Umiliani's upbeat hiss with the overseas bebop twist fits in like the Maestro in a Versace suit. The Italian was obliged to wear it permanently during the Sixties. He composed for agent films and soft porn, strummed to horror films and used jazz in ever new variations. People who produce films or television look for his music to overlay their images so that they can work under them. Umiliani knows this. He produces utility music. But music is more than just a mere stopgap.
David Hollander, author and archivist, describes how library music works in the illustrated book »Unusual Sounds«: »The music was not meant for the normal listener and so was not readily accessible. It was only available on LPs sold exclusively to film, television and radio producers. After all, companies that commissioned the production of music like this would never have dreamed that anyone else would be interested in such sounds«. And because Umiliani does not force his way onto the stage, his shadowy existence as a movie composer has its advantages. He is more often than not left to his own devices, composing on demand and thinking up music for films that haven't even been shot yet. But this is exactly what leads him to constantly have to reinvent himself.
("In)
The urge to experiment is inscribed in Umiliani's compositions consequently. He also goes on to release many of his pieces on his own label Omicron, the origins of which go back to his youth. His mother, recognising the talent of her »Pierino«, despite her pretence of him becoming a lawyer, founded a label with the name Omega early on to protect his copyrights. As Umiliani's success in film music grew, he renamed it in 1964 and developed Omicron into a library, adapting it to the growing production demands of the Italian media landscape and spinning it off with new sub-labels.
Tropical Paradises and Cha-cha-cha
More documentaries and films are being made that travel to distant countries and call for a soundtrack which not only confirms but perpetuates the stereotypes about these countries. Soundtracks to films like »Il Ponte Dell'Asia«, »Preistoria« or »Svezia, Inferno E Paradiso« could today – just like the corresponding films – fill the days of a dozen students of Post-Colonial Studies for several semesters. During the sixties, no one wasted a thought on whether it was appropriate to produce a record about »Africa« or »girls with moonlight skin« as a gringo. Both film and music were simply meant to help exoticize the bleak years of post-war Italian reconstruction and anticipate economic recovery.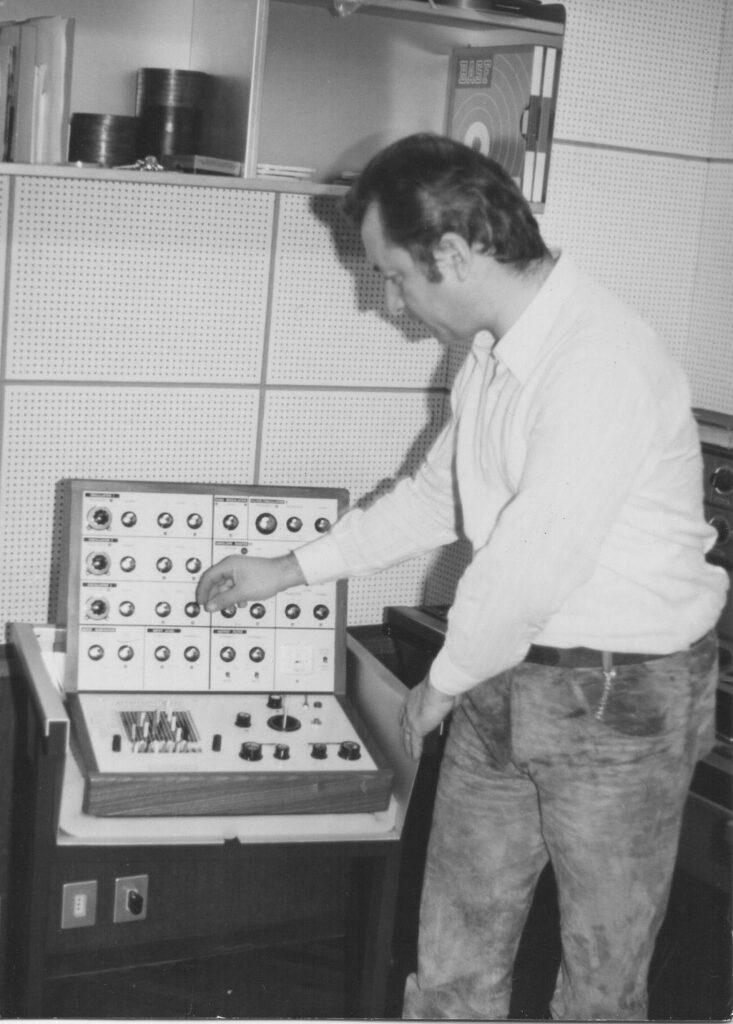 Umiliani, much like his contemporaries Piccioni, Morricone and Rota, uses sounds that draw their inspiration from tales of distant, oriental worlds while looking to America as the final frontier of exoticism. He leaves jazz structures behind and experiments with Moog synthesizers that buzz and beep as if the Maestro had been licking LSD. His music addresses the dreams and euphoria of a generation who had experienced and survived the war. During the seventies, the record covers explode in a frenzy of colour and portray images reminiscent of tropical paradises, sensual women, and cha-cha-cha under palm trees. Something tailored to the white Playboy reader's desire and reflecting his look. Dolce Vita. Shaken, not stirred.
»The arrival of the cocktail generation was predictable,« writes journalist Francesco Adinolfi in the book »Mondo Exotica«. In the nineties, »cultural recycling« became global. It moved into the households of the Western world – and thus into our subconscious – along with cable television and the Internet. More images of different pasts have begun to exist in the present, more culture has lost the feeling for its own historicity, Adinolfi writes – and sounds like an apologist for retromania at a hauntologist congress.
Background music, but strangely different
There are other reasons why today the music of Piero Umiliani, who died in Rome in 2001, could set new records with the number of times they are issued. In a time when the mood, the vibe and mood management is the most important reference in listening to music, blaring out »library music» depicts a situation that nobody has ever experienced before. But precisely because of the connection with covers and titles like »Atmospheres«, exoticize a past that dissolve genre boundaries and from this opens new possibilities for identification. Rediscovering Umiliani's music is like rummaging through your own parents' wardrobe. You feel safe, have a certain smell in your nose and an image in front of your eyes. That is not necessarily new. But strangely different.
Buy at HHV
We would like to thank Alessandra and Elisabetta Umiliani, Piero Umiliani's daughters, who went through their family archive to find photos of their father and made them available to us especially for this essay.