No, bossa nova may not be entirely to blame, not exclusively and entirely alone, as Manuela argues in 1963 in the hit song »Blame It on The Bossa Nova«, which was composed by American husband-and-wife songwriting duo Cynthia Weil and Barry Mann, and which lay the foundation for her teenage star career as »Schuld war nur der Bossa Nova« with German lyrics by Georg Buschor.
And yet: in retrospect – apart from Jamaican dub perhaps – hardly any style has had a more profound influence on the pop music of the past six decades than this »new wave«, as bossa nova translates, that emerged in Brazil at the end of the 1950s as a result of the love marriage of samba and cool jazz.
Flight to Brazil
This is especially true for (electronic) dance music: the easy listening and boogaloo sound of the '60s and '70s would have been inconceivable without bossa borrowings, and for the nu-jazz acts of the '90s like Thievery Corporation, De-Phazz or – already manifested here in the band name – Jazzanova, the physical rhythms and the harmonic refinement of Bossa Nova became binding elementary components of their own musical DNA.
With Brazilectro, something like a subgenre of its own even emerged. But the Brazilian jazz style also had a style-forming effect beyond the dance floor: almost every pop music genre formed its own niche by means of the prefix Latin – Latin pop, Latin rock, Latin jazz, the list could go on for a while (whereby the boundaries between South American and Afro-Cuban-Caribbean tradition are sometimes fluid in the term Latin). Beginning with Santana, a Latin metal genre of its own was even established in the heavy scene, bolstered since the nineties with nu-metal bands like the Brazilian band Sepultura, the Californian band Superfly and Ill Niño.
Similarly for hip-hop, beginning with (Latin) freestyle acts like Nayobe and Company B or the electro from a band like Man Parrish to the narco-rap of today. Shortly after the turn of the millennium, DJs like Madlib, Cut Chemist and J Rocc began to systematically search locally in Brazil for obscure releases.
Spezifisch brasilianisch ist der Topos der »Saudade« (Sehnsucht, Nostalgie), eine blaue Melancholie, eine gedämpfte Traurigkeit, aufgespannt zwischen Eros und Tod, Sinnlichkeit und Verlust, Erinnerung und Vergessen.
From hip-hop, Brazilian music also sent impulses in another direction. For the bossa seed might not have taken off better in any other genre than in house. Jesse Velez, Raz, Ralphi Rosario, Masters at Work, Louie Vega, Kenny Gonzales are just the most prominent names that stand for Latin house. At times, this trail even leads right to the middle of techno: The underground resistance maxi »Knights of The Jaguar« by The Aztec Mystic alias DJ Rolando, who grew up in the Hispanic community in the south-west of Detroit, is one of the classics of the genre par excellence.
Basically, hardly any tech house number can manage without at least a touch of Latin. For the music of Ricardo Villalobos, for example, the Latin sensibility for complex, polymetric and often syncopated rhythms and harmonies is fundamental. Carl Cox and Monika Kruse are also known for their explicit Latin numbers, however.
The word »bossa nova« refers to both a musical style and a dance. Its gender also remains open: there are both »la« and »el« bossa nova advocates. Relatively undisputed, however, is that this story begins in 1958: João Gilberto's recording of »Chega de Saudade«, written by Antônio Carlos »Tom« Jobim (music) and Vinícius de Moraes (lyrics), is considered the first bossa nova song ever.
The topos of »Saudade« (longing, nostalgia) is specifically Brazilian, a blue melancholy, a subdued sadness, stretched between Eros and death, sensuality and loss, memory and forgetting. Musically, the rhythmic and harmonic sophistication of the music is characteristic: complex melodic developments play around the figure of the clave, the pulse of the bossa nova is taken over from samba, polymetric patterns refer to the underlying African heritage.
Subdued vocals and muted acoustic instrumentation create an easy-going, pleasant sound, in which the virtuosity of the individual voices comes to the fore as a sovereign understatement.
Samba de Uma Nota Só
Marcel Camus' grandiose screen drama »Orfeu Negro« with the congenial music of Luiz Bonfá and Jobim marks the international breakthrough for the new style in the following year. In 1962, Charlie Byrd and Stan Getz record the album »Jazz Samba« – now, at the latest, bossa nova is on everyone's lips. Produced by Creed Taylor, who had just switched from Impulse! to Verve, and recorded in Rudy Van Gelder's studio, it contains the two Jobim compositions »Desafinado« and »One Note Samba (Samba de Uma Nota Só)«, two titles that have become universal jazz standards. It is one of the most commercially successful jazz albums of all time.
In fact, Getz was awarded a Grammy for the recording of »Desafinado«. From the USA, bossa nova fever spreads like wildfire across the globe, pushing, as mentioned above, a certain Manuela up the charts on the other side of the Atlantic.
In 1964, »Getz/Gilberto« is released. With João Gilberto (guitar, vocals) and Tom Jobim (piano), two of the pioneers of the style are now at Getz's side in the studio; the result is one of the best-selling albums ever and one which wins several Grammys. »The Girl from Ipanema«, sung by João Gilberto's wife Astrud Gilberto, became not only a Grammy-winning world hit, but also the national anthem of bossa nova: »Garota de Ipanema«, the title of the Portuguese-language original by Jobim (music) and de Moraes (lyrics), stands like no other song for the entire genre.
Still extremely popular today, their beach girl with evergreens like »Yesterday« is one of the most interpreted songs of the 20th century. Creed Taylor was once again the producer, decisively shaping the face of the new sound at the time with his visionary and detailed ideas. He later continued to do so on his label CTI, where Eumir Deodato celebrated his international breakthrough with »Prelude« in 1973.
Tristeza on Guitar
The military coup of 1964 brought about a change in the general conditions in Brazil, also and especially for artists: quite a few musicians emigrated, mainly to the USA. Those who stayed had to reconcile themselves with censorship. However, the need to find forms and metaphors when it comes to lyrics, that fly below the radar of the censorship authorities, i.e. to encode precise political statements, produced some masterpieces of the genre.
For example, Chico Buarque's album »Construção«, released in 1971, on which Jobim and de Moraes also worked, is one of the generally recognised milestones in pop music. Composed in 1963 by Jorge Ben, »Mas que nada« became a world hit in 1966 for Sérgio Mendes and his formation Brasil '66 (Brasil '77 after a reshuffle in 1971), which he founded in exile in the USA. Here, too, the number of cover versions is probably endless. A version recorded with The Black Eyed Peas brought Mendes back into the charts in 2006.
Another key figure in bossa nova, besides Jobim and João Gilberto, is the guitarist Baden Powell: In the fifties, he formed a successful quartet with them and Luiz Bonfá; »Os Afro Sambas« (1966) was the result of their collaboration with Vinícius de Moraes. It contained the »Canto de Ossanha« that became widely known in the interpretation by Elis Regina. In the same year, Joachim-Ernst Berendt began to produce records with Baden Powell: »Tristeza on Guitar«, recorded in Rio de Janeiro in 1966 and initially released on Saba, became an international success.
The successors »Poema on Guitar« (1968), »Canto on Guitar« (1971) and »Images on Guitar« (1973) were recorded in the MPS studio in Villingen, Germany, and released on Hans-Georg Brunner-Schwer's label Musik Produktion Schwarzwald (MPS), which emerged from Saba. A successful career in Europe began with an appearance at the Berlin Jazztage festival. After a decade of extensive touring, Baden Powell chose to retreat to Baden-Baden for several years in the mid-'80s.
Fino da Bossa
Naturally, the bossa legacy lives on most vividly in the development of Brazilian music itself. In the mid-'60s, a continuation of the idea of an original Brazilian pop music emerged under the rubric Música Popular Brasileira (MPB). An important multiplier of MPB is Elis Regina with the TV show »Fino da Bossa«, which she presents. Her recording of »Arrastão«, written by de Moraes and Edu Lobo, another guitarist from the first bossa generation, is generally regarded as the nascence of MPB.
Related reviews
In around 1967, a new movement emerges that fuses bossa nova and rock music together conceptually: the term Tropicalismo is primarily associated with the names Caetano Veloso and Gilberto Gil, who in 1968, together with the psychedelic rock band Os Mutantes, singer Gal Costa and the multi-instrumentalist Tom Zé, published the style-forming, programmatic anthology »Tropicália ou Panis et Circensis«.
Caetano Veloso, to this day one of Brazil's most creative musicians, and Gilberto Gil, the country's later Minister of Culture, were subsequently imprisoned and went into exile in London. Veloso's sister Maria Bethânia has never allowed herself to be reduced to one style and has recorded bossa, MPB and Tropicalismo tracks. Also active to this day is Marcos Valle.
Música das Nuvens e do Chão
One exceptional phenomenon is Hermeto Pascoal, a musician with albinism who has studied Heitor Villa-Lobos, the most famous Brazilian composer of classical music. The multi-instrumentalist interweaves bossa with free jazz to form a cosmic mixture, which Karl Lippegaus aptly described as »Brazil's answer to Sun Ra«.
Among the brass players, it was primarily the trombonist Raul de Souza and the trumpeter Claudio Roditi who also became known internationally. The multitude of exceptional Brazilian percussionists basically deserves a separate mention. The polyrhythmic networks of Airto Moreira, associated with Hermeto Pascoal in the trio Sambrasa and Quarteto Novo, can be heard on Miles Davis' iconic album »Bitches Brew«, among others, as well as many LPs by his wife Flora Purim.
Weather Report and Chick Corea's Return to Forever were further stations in his career. Dom Um Romão, who began as a percussionist with Sérgio Mendes, then became Moreira's successor at Weather Report. Egberto Gismonti is a fascinating free spirit and sound magician of enormous chamber musical sensitivity. His album »Dança das cabeças«, recorded with the percussionist Naná Vasconcelos, ushered in a collaboration with Manfred Eicher's ECM label that lasted for decades.
Da Maior Importância
Inevitably, our cursory overview has to remain incomplete at this point. Roberto Menescal, Milton Nascimento, Azymuth, Daniela Mercury, Secos e Molhados, Tim Maia, Antonio Adolfo, Spectrum, Sound Factory, Persona and Tribo Massahí are just a few of the many artists whose work deserves intensive study. Bebel Gilberto, João Gilberto's daughter and Chico Buarque's niece, has worked with David Byrne, Arto Lindsay and DJ Towa Tei and conquered the world music charts with her own albums in the noughties.
More recently, Ed Motta, Tim Maia's nephew, caused quite a stir with his Brazilian AOR definition. Reissue labels like Far Out Recordings, Mr Bongo, Elemental Music and Whatmusic carefully dig up previously undiscovered rarities (at least in Germany). Thus making many of them available for the first time: For original pressings of Arthur Verocai's debut album (1972), »Paêbirú« (1975) by Lula Côrtes e Zé Ramalho, José Prates' »Tam… Tam… Tam…!« (1958) or Pedro Santos' »Krishnanda« (1968), collectors have to pay four-figure sums.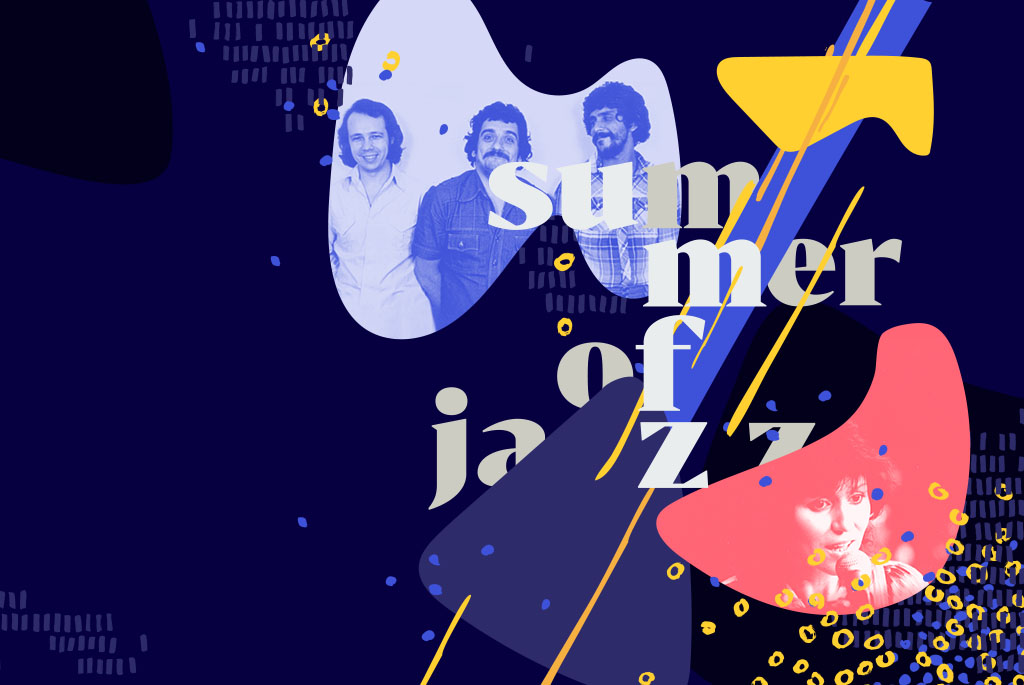 A selection of Vinyl records on the topic