»Overmono releasing an album is the greatest gift of the year«. That's what a user on YouTube wrote under one of Overmono's new videos. Does that sound exaggerated? You could take all the other comments as well, but the message remains the same: Everyone likes the sound of the British brothers. What Ed and Tom Russell roll out of the garage are songs that remind us of the UK sound of the past, but sound like the present of electronic music: sweet, sugar, candyman!
Overmono have been around since 2016, when Ed and Tom had already been on the dancefloors for years. As Tessela, one of them produced »beats that were somewhere between drum'n'bass and UK garage«. The other distorted kick drums as Truss until they became »tight smashers«. At some point they both felt reduced to that. Overmono was born. Since then, a dozen EPs have been released on their own label Poly Kicks and on XL Recordings. Only an album was missing – until now.
With »Good Lies«, Overmono release a record that breathes in the UK sound of the past to breathe it out between anthems, hype and vocal vibes of the present. It works so well that Overmono have now arrived on the big stages. The festival calendar is full. The name looms large. Most recently, the Dobermans, Overmono's signature visuals, were let off the leash at Coachella Valley.
Buy at HHV
You've done a couple interviews today. How many times have you talked about Coachella today?
Ed: We haven't actually!
Tom: No, we did! Once, right?.
Ed: Really?
Both of you used to play individually, often in clubs and in front of a couple hundred people. Now, the stages have grown. There are thousands in front of you.
Tom: Of course it's different to, say, play in a 200 cap club. Thing is: I love both because both give me different senses of satisfaction.
Ed: Between the two types of shows, the connection you get with the audience is completely different. Playing a small club, you build a personal connection to the individuals in front of you. When you play bigger stages with thousands of people, it's more about the big collective experience. That informs what we do.
Tom: Yes, we'll always end up writing tunes in hotel rooms late at night after festivals. That experience filters into what we do.
How did that change compared to your solo careers?
Ed: We never planned on changing, on the contrary we have always felt that we got a lot more to give. It just has been a slow but steady process of feeling more confident in giving back what we feel. There has never been a moment where we felt the need to ramp up or so. In the studio, we write whatever we want to write.
Tom: Yeah, the excitement of stepping into the studio and feeling inspired about what is about to happen has not faded. Everything can happen.
Ed: The same goes for the album. We wanted it to be whatever it could be. We never overthought stuff.
Tom: Therefore, the album is an encapsulation of our shared journey so far. It's a long way from our first »Arla» EP to our latest releases. Sure, it may sound completely different to our early work. To my ears, though, there are strong links everywhere.
»Man kann den schlimmsten Tag seines Lebens haben, traurig sein und trotzdem Trost in manchen Tunes finden.« (Ed Russell)
The sound is definitely more colorful. It kind of follows the shift in dance music towards a more pop-ish sound.
Ed: Thing is: The sound is heading in two opposite directions. One is hard as nails and 140 bpm, the other way seems to be like an erosion of boundaries.
I'm more interested in the erosion: Sometimes it feels like a nostalgic euphoria.
Ed: We are definitely looking for a particular feeling when we write music. It's quite difficult to summarize what that feeling really is, though. It's somewhere between euphoria and melancholy for sure, but we only know it when we got it.
Tom: It's a very human experience being caught in between these emotions you mention. Also, it's about how these emotions are interpreted and in which environment you are in. We are interested in finding bits in our music that people can interpret in different ways.
Ed: The music we've always been drawn to shares this approach. You can have the worst day ever being sad and still find some solace in it. At the same time, you can also listen to it and it makes you feel absolutely incredible. That's where we want to go with our music
Has that approach changed in terms of getting older?
Ed: I don't think either of us are looking back wishing that we were 17 again.
Tom: I always want to move forward with music. That means: I don't want to recreate something that could have been done years ago. Overmono has always given us that freedom whereas with our solo careers, we both felt a bit stuck in the end. While I loved what I was doing as Truss, it wasn't the only thing that I wanted to do forever.
Ed: When I was younger and went to a club, I would want to hear music that made me stop and feel like: Holy shit, what was that?«. As I got older, that changed. I didn't want it anymore. I wanted to have an emotional connection that sit with me on a deeper level.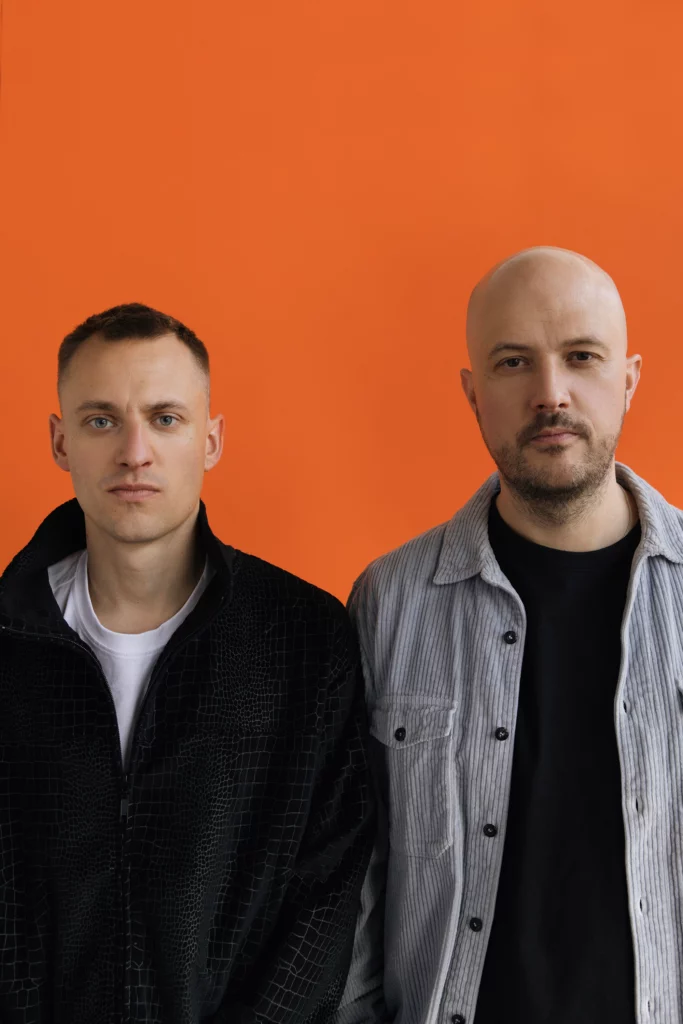 Have you made it as an artist when YouTubers start to do Tutorials on how to sound like Overmono?
Tom: There are tutorials about us?
Ed: I have to watch them, trying to figure out how they do it.
Tom: I would be interested in what they do actually. Normally, when I see anything like that, people way overcomplicate things. Honestly, neither of us think too much when we go into the studio. I guess we don't have to because we have been doing it for a long time now. Still, one of the things we reasonably learned to our own advantage is that there are no rules. As much as I love YouTube tutorials — and I truly think that it is an amazing amount of knowledge which I would had loved having when I first started producing — there is a lot of stuff where people tell you how you should do it. That's a completely wrong approach to making music.
The sound these tutorials on Overmono want to make is called »Future Garage«. Ever heard of that?
Tom: Never have and probably never will.
Ed: Yeah, I remember that »Night Bus« was a genre for a while as well. I'm pretty sure Beatport once got a section for that.
To be fair, a lot of new people have discovered Overmono only recently. They have to have something to hold onto, right?
Tom: Of course, I am more than happy for other people to have certain terms. Personally, I never want to be pigeonholed or attach any genre tag to my music.
»Yeah, I enjoy waking Ed up in the morning. I shout at him while I'm filming him.« (Tom Russell)
There is a certain aesthetic attached to Overmono now. Part of the credits go to…
Tom: Rollo Jackson.
Ed: He shoots everything and is something like an …
Tom: Art Director to us.
Ed: There's another guy called Chris Innerstrings who processes the images how we want it to be for the live shows. We have been working on this for the last couple years. It's really cool to see it on a huge LED wall now.
Part of that aesthetic are the Dobermans. Ed, you said that with them, you want to present something stereotyped in a way how it actually is.
Ed: Dobermans got a bad reputation. People think that they are trained to be aggressive dogs and that they have their ears clipped to make them look more vicious. That is just humans fucking with them because in reality, they are really as nice and playful and lovely as any other dogs. So, we just want to show them in their natural state because they are fucking majestic.
Do you have Dobermans on your own?
Ed: Nah, but I will have one day. At the moment, we are on the road for the better part of the year. It would be cruel to leave them at home all the time.
I'm zooming with you in the UK. How long are you at home now?
Tom: We were in Australia for three weeks, got home, hopped on a plane to America, just came back again. In a few days we will leave for the Netherlands.
I guess you're not sharing a hotel room anymore, right?
Tom: Not anymore, but we used to a lot, especially during last year.
Ed: And it was … fine.
Tom: Yeah, I enjoy waking Ed up in the morning. I shout at him while I'm filming him.
Ed: I'm the most anxious sleeper you'll ever meet. Most of the time, I'm so on the edge, you can say anything and I jump out of my skin. So, I'm glad that we got to the point where we can have separate hotel rooms.
It's good to see you share brotherly love.
Ed: It's the music that has always got us really close. Especially back then, when I wanted to start making music, we used to hang out a lot, so I could learn how all that stuff worked. Tom really helped me a lot.
Tom: Now it's mostly Ed teaching me.
Ed: We spend a lot of time on Skype these days, we are probably the last remaining people who still use it.
Tom: Yeah, Ed plays me his tunes over Skype, but I only get this weird time-stretched noises out of my speakers.
Do you want to tell me a good lie to end this interview?
Tom: I've got a lovely singing voice.
Ed: You will hear soon! On »Bby« which came out last year, he originally sang the vocals. Eventually, we had it re-recorded. Maybe, when we do an anniversary tour, we can run the live show with the original vocals.
Tom: Oh god, I have to find that and delete it!